medical
In the medical field permanent make-up is a complex procedure. Diahann can attain exact skin tones that mimic what is missing or needs camouflaging.
Diahann is able to create a colour match of the patient's original or remaining areola after breast reconstruction. The effect created is 3 dimensional and very realistic. This natural appearance helps re establish the patient's confidence, self esteem and subsequently their well being.
Diahann can provide the perfect solution to all kinds of surgery to disguise scars as a result of some breast augmentation, reduction and uplift procedures.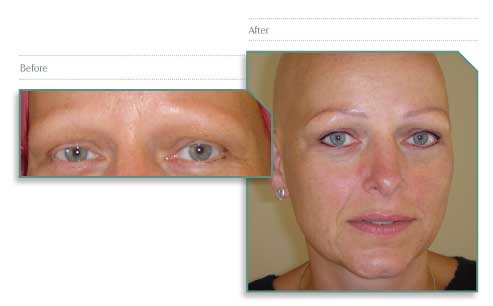 the benefits
• To replace eyebrows and eyeline due to hair loss from Alopecia or Chemotherapy
• Repigmentation of the nipple & areola after breast reconstruction
• Replacing loss of pigment to areola due to breast enlargement or reduction
• Blending scars in to the skin due to accidents or cosmetic surgery
• After cleft palate or hair lip corrective surgery to even out the lip shape
• Replace eyebrows, lip shape and define the eyes after burns to the face
Coping with illness, injury or disfigurement often leads to a loss of confidence and self esteem